Scheduling Note: Prayer Services tomorrow (3-14-19) at
St. Francis of Assisi Catholic Church in Castle Rock, CO are CANCELLED DUE TO WEATHER
Deliverance Ministry Training II for Priests and Laity
Castle Rock, Colorado
August 27-29, 2019
"Go into all the world and preach the Gospel to the whole of creation. He who believes and is baptized will be saved…And these signs will accompany those who believe: in my name they will cast out demons…they will lay their hands on the sick, and they will recover…And they went forth and preached everywhere, while the Lord worked with them and confirmed the message by the signs that attended it."
 Mark 16:15-18
"I had a ruptured disk in my lower back with stabbing pain due to a work injury and I was unable to bend over. I can bend completely over and touch the floor, which I have been unable to do for ten years."
-Carrie Hastings Howell, MI

"I fell on the ice four years ago and shattered my collar bone and damaged my right shoulder.  I now have no pain and full movement."
-Bob Scheich Denver, CO

"I was wearing hearing aids in both ears due to hardening of ear drums from childhood ear infections. I haven't been able to hear sermons for a long time, but now I hear Father speaking without my hearing aids."
-Beverly Pruitt Howell, MI

"I had lower back problems due to an injury and could not bend down. I am now able to bend all the way down and put my palms onto the ground."
-Tom Michel Cinci., OH

"I had a rotator cuff problem due to playing baseball. I now have a full range of motion without any pain."
-Ernie Bodine Howell, MI

"I could not walk due to a rheumatoid arthritis and now I can walk!"
-Philomena Vitale Howell, MI

"I had macular degeneration in my left eye caused by genetics. I can now see colors and there is no difference between my left eye and my healthy right eye."
-Iris Alvarez Arvada, CO

"I had back pain/break due to an airplane accident. I can now bend and the knot in the center of my back is gone!"
-Mary Prout Denver, CO

"I had four degenerated disks in neck and torn meniscus in both knees due to injuries in my life. No pain! I came in wearing a neck brace."
-D'Marie Jacques Denver, CO
MNE is a 501C3 Tax Exempt Religious Organization under the guidance of the Roman Catholic Church dedicated to the renewal of all God's children through Proclamation of the Word, Conversion of Hearts, Baptism of the Holy Spirit and Prayers of Healing.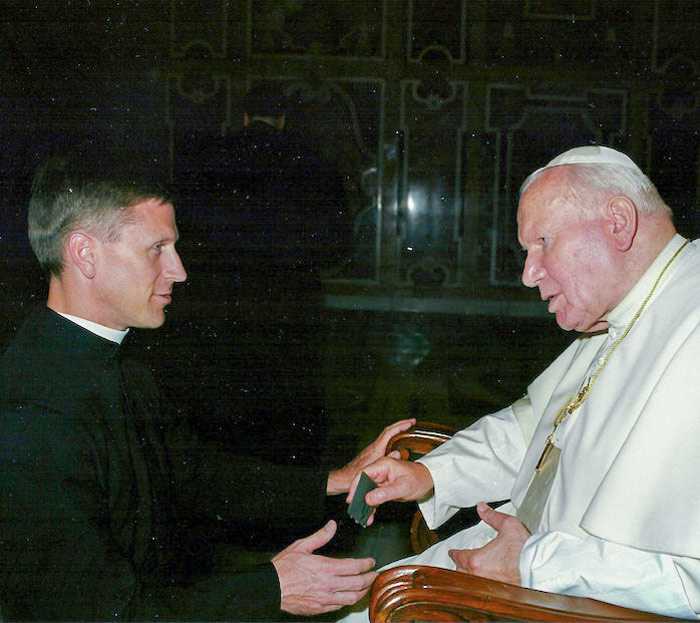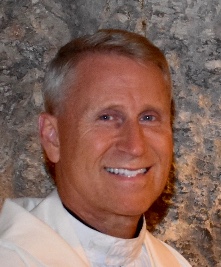 ---
Fr. Greg Bramlage was born in 1964 and grew up in Indiana.  In 1990 he graduated from Marian College with a Degree in Business Administration. He worked 13 years in the Transportation Industry before being called to the priesthood. In 1996 he graduated Cum Laude from Mount St. Mary's Seminary and was ordained for the Archdiocese of Indianapolis.  He has pastored multiple parishes and a school. He has led ten pilgrimages to the Holy Land and many throughout Catholic Europe.  In 2004, he received the Blessed Gianna Molla Award for his leadership in the Pro-Life Ministry. And in 2005, Fr. Greg inaugurated the first Perpetual Eucharistic Adoration Chapel in Southeast Indiana. 
That same year, he began hosting and speaking at regional faith conferences. He incorporated a full-time Healing/Deliverance Ministry at his parish of St. Nicholas.  He has been a guest speaker for EWTN as well as various Catholic Radio Stations. Since 2009, Fr. Greg has evangelized throughout Africa, India, Central & South America as well as in many parts of the United States. In 2011, Fr. Greg received permission from his Archbishop to begin full-time work as a Catholic Evangelist.  That same year, he founded "Missionaries of the New Evangelization" to accomplish this purpose.